Crafting is an option for obtaining items, armor, consumables, and weapons in Salt by combining materials.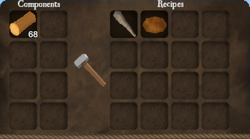 When pressing "C" (default key), the crafting window appears above the general inventory. From here, the player can add different materials into the crafting window by right-clicking (default button) the desired material or dragging it to the "Components" window. When it is possible to craft from these materials, then it will show in the "Recipes" window like on the second picture.
When hovering over one of the recipes, it will also tell how many of the materials are required to craft the recipe. To craft the desired recipe, right-click the icon and select the number of items you want to craft. The more items you craft, the faster the process is.
When the recipe is crafted, the item will then move directly to the player's inventory. By combining materials from the inventory the player can craft various items such as consumables, weapons, armor, and Ship Customization objects. Crafting an item cannot be undone. It is possible to destroy an item by left-clicking it, but it will not salvage anything.
The developers also said some recipes are intended to be secret, thus requiring all the needed materials to shows in the "Recipes" window.
This list shows all recipes for all craftable items, weapons, armor, and consumables in Salt.
Item
Components
Notes
Tools
Bamboo Fishing Pole
1 Bamboo Pole, 1 Ripe Tree Fruit,
Used for fishing
Pickaxe
1 Hardstone Ore, 1 Wood Log
Used for mining
Blunt Pickaxe
2 Harstone Ore, 1 Hardwood Log
Used for mining
Shovel
1 Hardstone Ore, 1 Hardwood Log
Used to dig up treasure
Ancient Pickaxe
3 Ancient Metal, 1 Hardwood Log
Used for mining
Ancient Flute
1 Ancient Metal, 1 Volatile Ore
Used to loot Spirit of Stone
Composer's Flute
Instrument Carving Knife + Aged Hardwood
+8% crit. hit chance for 2 mins
Torch
1 Wood Log, 1 Coal
use to light your path
Compass
1 Magnetic Stone, 1 Hardstone Ore
show directions
Sextant
1 Flintstone, 1 Hardstone Ore
show current location
Pink Fishing Lure
1 Spinning Bucktail Lure, 1 Red Fishing Lure
Allows you to catch Elusive Joe
Catalized Fused Bomb
1 Hardstone Ore, 1 Volatile Ore,
85 damage, 3 sec timer
Catalyzed Volatile Bomb
1 Hardstone Ore, 1 Volatile Ore, 1 Volatile Catalyst
52 damage, explodes upon impact
Fused Bomb
1 Hardstone Ore, 1 Volatile Ore,

1 Cloth Swatch, 1 Plant Fiber

65 damage, 3 sec timer
Volatile Bomb
1 Hardstone Ore, 1 Volatile Ore
40 damage, explodes upon impact
Consumables
Barracuda Venom
1 Venomous Barracuda, 1 Black Flower
Lethal poison applied to weapons
Yellowfin Neurotoxin
2 Poisonous Yellowfin
Lethal poison applied to weapons
Jungle Spider Poison
1 Jungle Spider Fang
Add poison to weapons for 10 mins
Spider Poison
1 Spider Fang
Add poison to weapons for 10 mins
Black Flower Potion
2 Black Flowers
Add poison to weapons for 3 mins
Poison Antidote
1 Black Flower, 1 White Flower
Cures poison
Seaweed Extract
2 Seaweed
3 stamina regen., 10 mins
Night Skimmer Oil
1 Night Skimmer
Makes you glow
Blow Absorption Oil
2 Jellyfish
9 armor for 10 mins
Garibaldi Goo
2 Orange Garibaldi
20% cliff climbing bonus for 10 mins
Healing Recoil Potion
1 Jungle Bud, 1 White Flower
Can heal when taking damage
Hightop Bloom Potion
2 Hightop Bloom
10 Strength for 10 mins
Climbing Rope
2 Strong Plant Fibers
20% Climbing bonus
Bandage
1 Cloth Swatch
Improves health regen. for 30 sec
Strong Bandage
1 Fine Material
Improves health regen. for 50 sec
Jungle Bindings
2 Jungle Spider Silk
Improves health regen. for 50 sec,

70% chance to remove poison

White Flower Potion
2 White Flowers
Moderate healing
Pristine White Flower Potion
2 Pristine White Flower
Important healing
Armor
Deer Hide Boots
1 Deer Pelt, 1 Plant Fibers
3 armor
Deer Hide Pants
1 Deer Pelt, 1 Plant Fibers
3 armor
Deer Hide Tunic
1 Deer Pelt, 1 Plant Fibers
3 armor
Stag Hide Tunic
1 Giant Deer Pelt, 1 Strong Plant Fibers
5 armor
Stag Hide Pants
1 Giant Deer Pelt, 1 Strong Plant Fibers
5 armor
Stag Hide Boots
1 Giant Deer Pelt, 1 Strong Plant Fibers
5 armor
Pristine Stag Hide Tunic
1 Pristine Giant Deer Pelt, 1 Strong Plant Fibers
6 armor
Pristine Stag Hide Pants
1 Pristine Giant Deer Pelt, 1 Strong Plant Fibers
6 armor
Pristine Stag Hide Boots
1 Pristine Giant Deer Pelt, 1 Strong Plant Fibers
6 armor
Perfect Stag Hide Tunic
1 Perfect Giant Deer Pelt, 1 Strong Plant Fibers
8 armor
Perfect Stag Hide Pants
1 Perfect Giant Deer Pelt, 1 Strong Plant Fibers
8 armor
Perfect Stag Hide Boots
1 Perfect Giant Deer Pelt, 1 Strong Plant Fibers
8 armor
Cloak of the Alpha Stag
1 Perfect Giant Deer Pelt, 1 Strong Plant Fibers
3 armor, 5 strength

Sprint bonus

White Deer Hide Pants
3 Albino Deer Pelt
5 armor
White Deer Hide Boots
2 Albino Deer Pelt
5 armor
White Deer Hide Tunic
4 Albino Deer Pelt
5 armor
White Deerhide Cloak
1 Albino Deer Pelt, 1 Strong Plant Fibers
2 armor, 4 stamina regen.
Black Deerhide Cloak
1 Black Deer Pelt, 1 Strong Plant Fibers
2 armor, 4 stamina regen.
Cloth Tunic
2 Cloth Swatch, 1 Strong Plant Fibers
2 armor
Cloth Pants
2 Cloth Swatch, 1 Strong Plant Fibers
2 armor
Cloth Boots
2 Cloth Swatch, 1 Strong Plant Fibers
2 armor
Tiger Hide Tunic
1 Tiger Pelt, 1 Strong Plant Fibers
8 armor, 0.5 run speed
Tiger Hide Pants
1 Tiger Pelt, 1 Strong Plant Fibers
8 armor, 0.5 run speed
Tiger Hide Boots
1 Tiger Pelt, 1 Strong Plant Fibers
8 armor, 0.5 run speed
Pristine Tiger Hide Tunic
1 Pristine Tiger Pelt, 1 Strong Plant Fibers
8 armor, 0.7 run speed
Pristine Tiger Hide Pants
1 Pristine Tiger Pelt, 1 Strong Plant Fibers
8 armor, 0.7 run speed
Pristine Tiger Hide Boots
1 Pristine Tiger Pelt, 1 Strong Plant Fibers
8 armor, 0.7 run speed
Perfect Tiger Hide Tunic
1 Perfect Tiger Pelt, 1 Strong Plant Fibers
8 armor, 1 run speed
Perfect Tiger Hide Pants
1 Perfect Tiger Pelt, 1 Strong Plant Fibers
8 armor, 1 run speed
Perfect Tiger Hide Boots
1 Perfect Tiger Pelt, 1 Strong Plant Fibers
8 armor, 1 run speed
Ironite Greaves
2 Ironite Ore
12 armor, 5 weight
Ironite Breastplate
2 Ironite Ore
12 armor, 5 weight
Ancient Breastplate
3 Ancient Metal
11 armor, 4 weight
Ancient Greaves
3 Ancient Metal
11 armor, 4 weight
Ancient Helm
3 Ancient Metal
6 armor, 2 weight
Ancient Gauntlets
3 Ancient Metal
6 armor, 2 weight
Cobalt Breastplate
3 Cobalt Ore, 3 Coal,

1 Pristine Deer Pelt, 3 Ironite Ore

16 armor, 5 weight
Cobalt Greaves
3 Cobalt Ore, 3 Ironite Ore,

3 Coal, 1 Pristine Deer Pelt

12 armor, 5 weight
Turtle Shell Helm
1 Sea Turtle Shell, 1 Deer Pelt
4 armor, 1 weight
Turtle Chestplate
1 Sea Turtle Shell, 1 Deer Pelt
10 armor, 2 weight
Topaz Ring
1 Rough Topaz, 1 Silver Ore
1 adornment, 100 max food
Ruby Ring
1 Rough Ruby, 1 Silver Ore
2 adornment, 9 max health
Diamond Ring
1 Rough Diamond, 1 Silver Ore
3 adornment, 9 stamina regen.
Moonrock Ring
6 Moonrock Ore Shard, 1 Silver Ore
2 adornment

Used to summon Draegan

Ancient Skull Quiver
1 Pristine Deer Pelt, 1 Purified Ancient Skull
3 armor, shows arrows count
Tiger Fang Necklace
3 Tiger Fang, 1 Strong Plant Fibers
10 strength
Upgraded Tiger Fang Necklace
1 Tiger Fang Necklace, 10 Tiger Fang
30 strength, 10 max health
Weapons
Short Sword
5 Stone Block, 1 Wood Log
7 slash, 9 slash
Moonrock Sword
10 Moonrock Ore Shard, 1 Hardwood Log
15 slash, 32 slash
Scimitar
1 Hardwood Log, 1 Pristine Deer Pelt,
16 slash, 29 slash
Sword of the Sun
5 Sun Sword Shard
45 slash, 55 slash
Sword of Old
5 Old Sword Shard
40 slash, 55 slash
Cobalt Greatsword
5 Cobalt Ore, 5 Ironite Ore,

5 Coal, 1 Pristine Deer Pelt

36 slash, 50 slash
Club
1 Wood Log
5 blunt, 8 blunt
Hardwood Club
1 Hardwood Log
9 blunt, 13 blunt
Junglewood Club
1 Junglewood Log
15 blunt, 26 blunt
Ancient Skull Staff (normal)
1 Cultist's Staff + 1 Purified Ancient Skull
17 blunt, powerful aoe attack
Ancient Skull Staff
1 White Cultist's Staff,1 Purified Ancient Skull
21 blunt, 42 blunt
Dagger
1 Hardstone Ore, 1 Deer Pelt
9 pierce, 18 pierce
Shortbow
1 Wood Log, 2 Plant Fibers
1 DM, 1 DS, 35 arrow speed
Hardwood Shortbow
1 Hardwood Log, 2 Plant Fibers
1.2 DM, 1.2 DS, 38 arrow speed
Ancient Bow
3 Ancient Metal, 1 Strong Plant Fibers
1.4 DM, 1.2 DS, 39 arrow speed
Crude Arrows (5)
1 Wood Log, 1 Flintstone
21 pierce, 80% retrieve chance
Hardstone Arrows (5)
1 Hardwood Log, 1 Hardstone Ore
36 pierce, 90% retrieve chance
Poison Arrows
1 Crude Arrow, 1 Black Flower Potion
15 pierce, 80% retrieve chance

Poison enemy

Healing Arrow
1 White Flower Potion, 1 Crude Arrow
6 healing, 0% retrieve chance
Lightning Rod Arrow (5)
1 Thunder Crystal, 1 Hardstone Ore
30 pierce, attracts lightning strike
Splintering Arrow
1 Whittling Knife, 1 Junglewood Log
10 pierce, cause bleed
Jungle Heartwood Arrow
1 Whittling Knife, 1 Junglewood Log
34 pierce, 80% retrieve chance
Green Feather Arrow (3)
1 Green Feather, 1 Flintstone, 1 Wood Log
20 pierce, 80% retrieve chance

Reduce enemy's speed

Red Feather Arrow (3)
1 Red Feather, 1 Flintstone, 1 Wood Log
20 pierce, 80% retrieve chance

Heals some health when shot

Yellow Feather Arrow (3)
1 Yellow Feather, 1 Flintstone, 1 Wood Log
20 pierce, 80% retrieve chance

Heals some stamina when shot

Blue Feather Arrow (3)
1 Blue Feather, 1 Flintstone, 1 Wood Log
42 pierce, 80% retrieve chance
Black Feather Arrow (3)
1 Black Feather, 1 Flintstone, 1 Wood Log
20 pierce, 80% retrieve chance

200% arrow speed

White Feather Arrow (3)
1 White Feather, 1 Flintstone, 1 Wood Log
20 pierce, 80% retrieve chance
Boats
Sailing Raft
7 Wood Log, 2 Cloth Swatch
Slow raft, new player's first boat.
Small Sailboat
7 Hardwood Log, 4 Cloth Swatch
Small boat.
Old Pirate Ship
40 Wood Log, 10 Hardwood Log,

8 Cloth Swatch, 10 Plant Fibers

Slow ship, more space for

customization items.

Pardon Pusher
Pirate Ship Hull Materials,
One of the quickest ship.
Red Pardon Pusher
5 Red Pardon Pusher Materials
Red-colored Pardon Pusher
The Red Maiden
150 wood logs, 25 hardwood logs,

5 ironite ore, 5 hardstone ore,

Red-colored Maiden.
The White Pearl
4 White Pearl Materials
White-colored Maiden.
Sea Skimmy
5 Sea Skimmy Materials
Quick small boat.
Placeable Items
Storage Crate
5 Crate Splinters
12 slots crate
Storage Chest
4 Hardstone Ore, 6 Wood Log
18 slots chest
Ironite Storage Chest
3 Ironite Ore, 4 Hardwood Log
30 slots chest
Cobalt Storage Chest
3 Cobalt Ore, 3 Ironite Ore,

3 Coal, 4 Hardwood Log

42 slots chest
Bed
3 Fine Material, 4 Hardwood Log
Place on a boat to rest.
Deck Fire Pit
2 Hardstone Ore
Place on a boat to rest.

Uses 1 Wood Log and 2 Flintstone to light.

Torch Holder
1 Ironite Ore
Provides light (need one torch)
Cobalt Torch Holder
1 Cobalt Ore, 1 Ironite Ore, 1 Coal
Provides light (need one torch)
Bamboo Mat
10 Bamboo Pole, 2 Wood Log
decorative item
Flag
1 Wood Log, 1 Cloth Swatch
decorative item, can be placed on land
Tripwire
1 Wood Log, 1 Plant Fiber
trap, slow enemies
Thorn Tripwire
1 Wood Log, 1 Thorn Vine
trap, slow/hurt enemies
Campfire
3 Wood Log, 2 Flintstone
Used to rest
Lightning Rod
2 Ironite Ore + 1 Hardstone Ore
Used for lightning trap
Lightning Trap
1 Lightning Rod, 2 Thunder Crystal,
Used to capture thunder crystal
Compass Stand
1 Compass, 3 Hardwood Log
Tells direction
Grandpirate's Clock
4 Clock Gears
Tells time
Wooden Mounting Plate
3 Wood Log
Mount a weapon
Hardwood Mounting Plate
3 Hardwood Log
Mount a weapon
Stone Mounting Plate
3 Stone Block
Mount a weapon
Hardstone Mounting Plate
3 Hardstone Ore
Mount a weapon
Other
Cloth Swatch
3 Plant Fibers
useful crafting material
Plant Fiber
1 Bamboo Pole
useful crafting material
Fine Material
3 Strong Plant Fibers or 3 Spider Silk
very useful crafting material
Strange Coin
3 Strange Coin Shard
Used to open Strange Lockbox
Moonrock Key
5 Moonrock Ore, 1 Calamite Ore
Opens Cursed Chest
Salvage materials
1 Salvage Tool, 1 (common/uncommmon/rare weapon)
Gives various amount of materials
There are many books in Salt that can help you discover new crafting recipes: